Coins to Care money box
Save your loose change for Strode.
We are asking people to put together our cardboard money box and fill it with coins. When it's full, count how much you have collected then donate it to us. It's really easy to donate. You can make your donation online or pop it into Strode Park House, Lower Herne Road, Herne, CT6 7NE.
The cardboard money box template is free, we'll just charge you postage and we'll send this out first class.
Or if you have a printer and some thin card at home please do download our  Coins to Care template for free.
Thank you so much for supporting us at this very challenging time!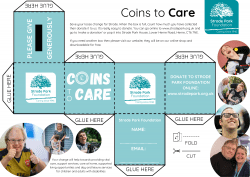 £0.00